History
The Ohio Society of the Sons of the American Revolution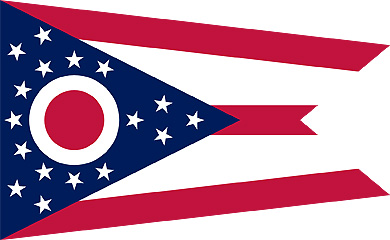 On April 11, 1889, a preliminary meeting was held in the office of Ohio Governor J.B. Foraker at the capitol in Columbus, the Organization of the Ohio Society Sons of the American Revolution Having antedated that of the National Society by nineteen days. On April 22, 1889, it was resolved to organize an Ohio Society and executive officers were elected and consisted of the Rev. Wilson R. Wilson of Worthington as President, Henry A. Willians of Columbus as Treasurer, and Mr. A.A. Graham of Columbus as Secretary.
A formal meeting was held on June 4th at the State House in Columbus at which time the Ohio Society was founded. A constitution along with by-laws were drafted and annual dues were fixed at $1.00 and life membership at $10.00. The charter members of the Ohio Society consisted of seventeen members. The goals of the Ohio Society were defined as a patriotic, historical, and educational organization established to unite and promote fellowship among the descendants of those who had sacrificed to achieve the independence for the American people. Furthermore, the Society hoped to inspire those members, and communities-at-large with a more profound reverence into the principles of our government founded by our forefathers. It was the desire of the Society to foster true patriotism, preserve, protect, and to promote the importance of the institutions of American freedom.
The Ohio Society, along with the National Society, would be dedicating itself towards the preservation of our nation's heritage. The Ohio Society was committed in assisting our members, schools, teachers, and the general public in the continuous effort to sustain, and to preserve our history and our constitutional principles. In time, the Ohio Society grew and expanded covering the entire State of Ohio. The Ohio Society now consists of 24 Chapters and 1,976 members. The state ranks 5th in the nation for total membership.
In 1968, the Ohio Society was bestowed a huge honor. During a special ceremony, the Ohio Historical Society presented a very special gift to the Ohio Society. This special gift consisted of a piece of the famous Logan elm tree which had been made into a gavel.The legacy of the last true witness to the events culminating in the Camp Charlotte Treaty of 1774. Those events were shortly before the American Revolution began where hostilities between the colonists and Indians were increasing on the western frontier in what is now called Ohio and Kentucky. Lord Dunmore, Governor of Virginia fought a campaign against the Indians. On October 19, 1774 after a long fought campaign, Lord Dunmore and Shawnee Indian Chief Cornstalk signed the treaty. Today the elm tree gavel presides along with each Ohio Society president.