Chapter Events
Americanism
- to promote principles of freedom and liberty for all Americans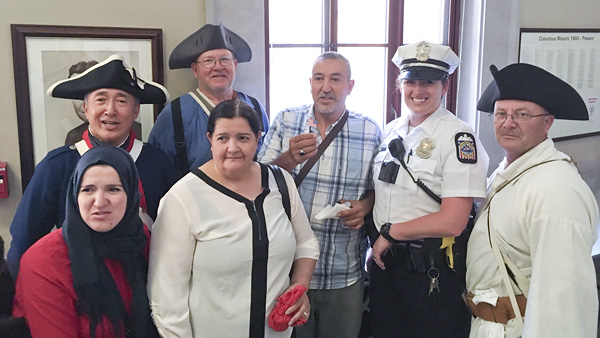 Naturalization Ceremony
July, 2019
City Hall, Columbus, Ohio

Ceremony for 111 new citizens.
---
Color Guard
- to encourage patriotic respect for the Flag of the United States and promote Flag Day programs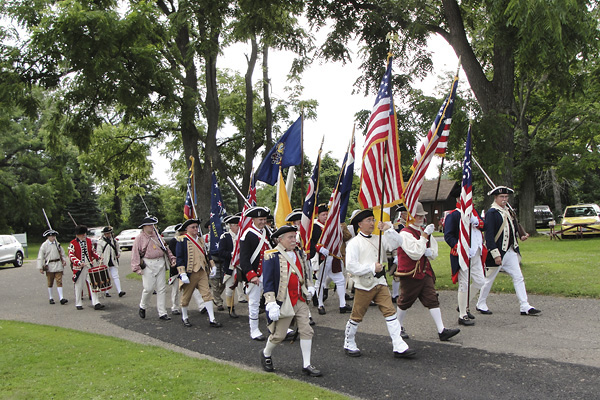 Ohio
Comprised of members from many Ohio chapters. Siege of Fort Laurens Memorial. Boliver, Ohio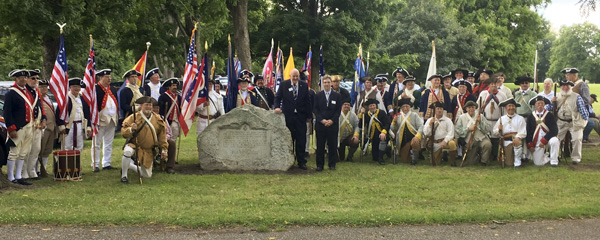 Fort Laurens
Don Miller (kneeling) representing the chapter
---
Veterans
- to encourage recognition of support to veterans in VA hospitals
---
Historic Sites and Celebrations
- to preserve, mark, and interpret historic sites and buildings and promote their recognition
8th Pennsylvania Regiment
July 13, 2019
Bolivar, Ohio
An annual event at the site of the Siege of Fort Laurens in Boliver.
---
Revolutionary War Graves
- to register final resting places of patriotic ancestors and publish the results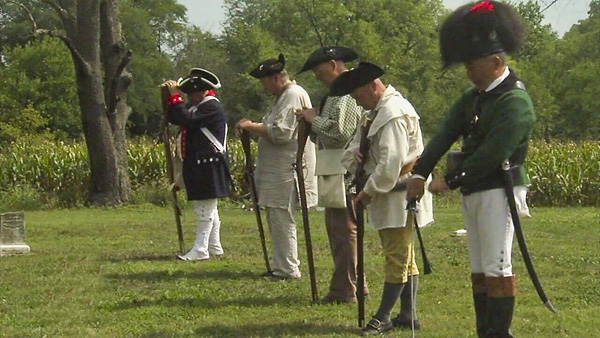 Grave Marking Dedication
for Patriot William Rogers 1761-1845
September 12, 2020
Tussing Cemetery
Perry Twp, Allen County, Ohio
L-R: Paul Irwin, Hocking Valley
Bob Hill, Ohio Society Color Guard Commander
Suzanne Matheke
Bob Davis, Hocking Valley
Gary Duffield, Highlanders Chapter
Al Gummere, Hocking Valley
Donald Miller, Benjamin Franklin Chapter
Mourning Firing Line With Flintlocks
Back to Front:
Gary Duffield
unknown
Al Gummere
Donald Miller
Bob Hill

---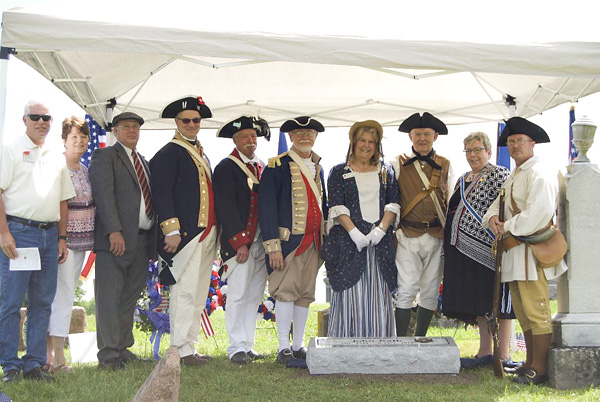 Grave Marking Dedication
for Patriot John Kalb
Memorial Day 2019
Union Grove Cemetery
Canal Winchester, Ohio
L-R; Tim Mills, Vickie Mills, Bill Finley, Steve Kelly, Steve Frash, Steve Hinson, Mrs. Schwoerer (descendant of Patriot Kalb), Barry Schwoerer,Nancy Sherman Wright and Donald Miller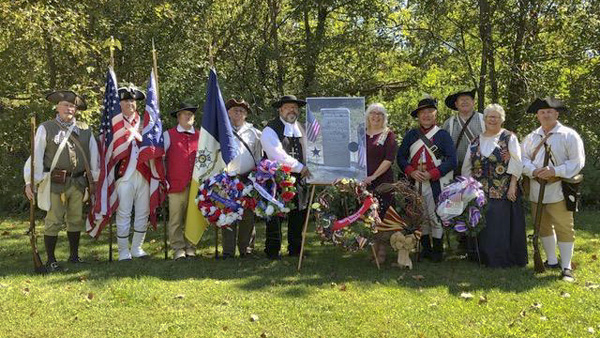 Grave Marking Dedication
for Patriot Samuel Skinner
September 14, 2019
Hazelton Cemetery
Shawnee, Ohio
L-R Chuck Bundy, Bob Davis, Bill Lyman, Paul Irwin, Matt Hardman, DAR lady unknown, Bob Hill, Alan Gummere, Mrs. Gummere and Donald Miller.
Grave Marking Dedication for Patriots:

John Mann
Henry Neil Sr.
Ebenezer Smith
May 16, 2021
Mansfield Cemetery
Mansfield, Ohio
L-R Bob Hill, Steve Hinson, Unk, Paul Irwin, State Society President Troy Bailey, Gary Duffield, Robert Davis, Lance Beebe, Benjamin Franklin Chapter President Donald Miller, Mrs. Dan Matheke, Mrs. Lance Beebe and Mrs. Troy Bailey. Second row L-R, Unk, Dan Matheke and Al Gummere.
Grave Marking Dedication for Patriots:

Seth Thompson
Joseph Rathburn

May 29, 2021
Farnham Cemetery
Ashtabula County, Ohio
Representing the chapter on the far right is Donald Miller.
Grave Marking Dedication
Honoring 4 Patriots buried in two cemeteries and captured in a single video.
Patriot Mathias Dague Sr.
June 19, 2021
Dague Cemetery
Gahanna, Ohio
Held indoors at the Jefferson Twp. Fire Station due to rain.
Patriots:

Thomas Ayers
Andrew Hanna
John Johnson
June 19, 2021
Ayers Cemetery
Gahanna, Ohio
---
Linage Research Workshops
- to promote family research and courses on genealogical procedures
---
Education
- to foster a better understanding of U.S. history in schools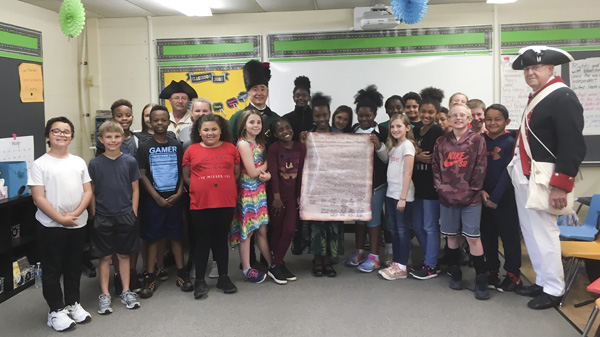 American History Class
May 10, 2019
Goshen Lane Elementary
Gahanna, Ohio

Mrs. Donaldson's class
Compatriots- L-R Don Miller, Bob Hill and Bob Davis
---
Wreaths Across America
- to REMEMBER our fallen U.S. Veterans; HONOR those who serve; and TEACH your children the value of freedom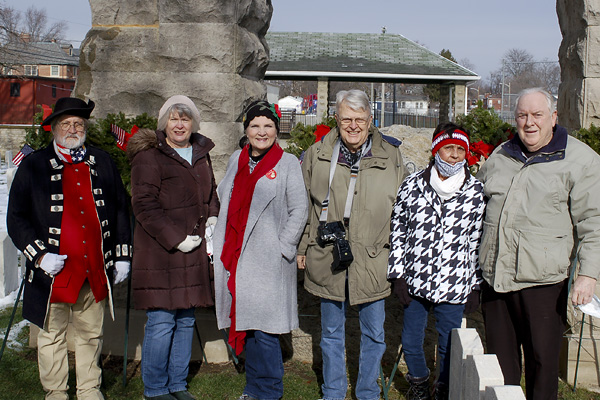 Camp Chase Cemetery
December 19, 2020
Sullivant Ave, Columbus
John Hoover Chapter DAR and
Benjamin Franklin Chapter SAR
L-R Bill Lyman, BFC
Karen Bott, Sr Regent JHC
Ginger Thrush, Chaplian JHC
Steve Powell, 2nd VP BFC
Linda Diehl, JHC
Bill Diehl, Treasurer BFC
Linda Diehl, JHC
Bill Diehl, Treasurer BFC
Camp Chase Cemetery
December 14, 2019
Sullivant Ave, Columbus
Annual SAR/DAR Event. This team laid 174 wreathes in the rain.
L-R Linda & Bill Diehl, Lora Yank
Linda & Lora are members of the John Hoover DAR chapter and Lora is a past Regent.
Walnut Grove Cemetery
December 14, 2019
Worthington, Ohio
John Snouffer
Sponsored by the Worthington DAR
---
Flag Certificate Presentations
Fast Response Heating and Cooling
December 4, 2019
Grove City, Ohio
L-R Robert Dunigan Jr., Bill Diehl (BFC SAR), Robert Dunigan Sr. (Owner), and his wife Tish Dunigan.
Not pictured- David Birthelmer, flag chairman
Given to this patriotic firm that gives a 25% discount to military, veterans, and all first responders.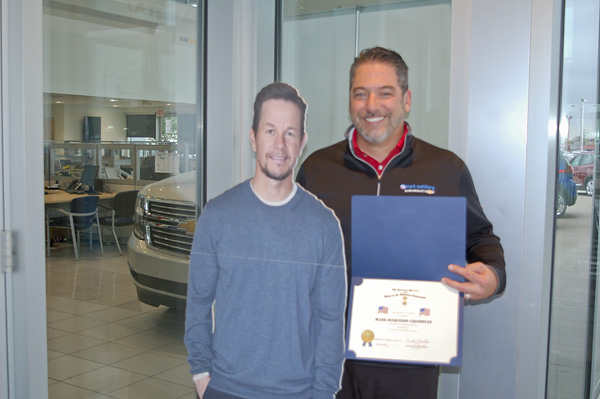 Mark Wahlberg Chevrolet
October 24, 2020
Columbus, Ohio
Brian Hartong, Sales Manager, receiving the Chapter's Flag Certificate.
---
George Washington's Birthday Celebration
To celebrate our first President.
February 22, 2020
94th Aero Squadron
Columbus, Ohio
To view the 17 pictures Click Here